Julie Ockerby's Meli Studio – Champions Of Sophisticated Seniors Living
Julie and her team at Meli Studio Australia have now added visionary commercial partners such as Allity, Uniting and Aurrum to their loyal residential client portfolio, together raising the bar on design expectations for aged care in Australia and determined to continue to push the boundaries of both design and functionality until the growing number of residents in Meli Studio-designed homes are able to age as gracefully as possible.
Julie's inspiration came from a deeply personal experience: "My father was ill and needed a nursing home, but I couldn't find one to the standards I felt he deserved. Nobody was considering the environment as adding to his quality of life – somewhere designed with heart and soul"
Further impetus to look beyond Australia came from visiting facilities in Singapore and finding striking exteriors hiding soul-less institutional interiors. Julie is now a member of Ageing Asia's Fast Track team, who conduct masterclasses in best practice aged care around the region. For this, she was recognised with the coveted Trailblazer Award at the Asia Pacific Eldercare Innovation Awards in 2018, and two projects were featured as finalists in the Asia Pacific Eldercare Innovation Awards 2019.
Julie's philosophy is simple: "People deserve to be in a space where they are cared for with privacy and dignity."
"Why can't aged care bedrooms be designed more like hotel suites? Why can't dining areas be more interactive and truly inspire all five senses, as we see in modern restaurants? Our recent aged care home projects feature cafés, hotel-style reception or lobby spaces, hair salons and cinemas. Moving forward, I'd like to see the design trends embracing the whole family to encourage intergenerational involvement. Areas such as private dining rooms needs to be more than a big table with 12 chairs, they have to involve the outdoor spaces and landscape features, such as playgrounds", Julie concludes.

Meli Studio also works on specialist dementia units, evolving the use colour psychology and its effect on behaviours to create less of an institutional feel. Julie designs the floor plates for these areas to support movement and engagement, and links to the community together with effective use of colour and textures, bringing a new dimension to dementia design.
David Armstrong, CEO of Allity Aged Care, adds "With her uniquely diverse background in hospitality and healthcare, Julie has challenged and broadened our design vision to create outstanding, uplifting environments that our residents are proud to call home."
Meli Studio has grown twofold in the past 12 months. With 19 projects in development across Australia, Julie and her team will continue to reinvigorate our aged care facilities while expanding into Asia and even eyeing the USA.
To see more of Julie and Meli Studio's work, visit www.melistudio.com.au
Interview with Julie Ockerby, Principal Creative Director of Meli Studio
Question: What inspired you and Meli Studio to specialise in interior design for aged care?
Julie Ockerby: My inspiration came from a deeply personal experience – my father was ill and needed a nursing home, but I couldn't find one to the standards I felt he deserved. Nobody was considering the environment as adding to his quality of life – somewhere designed with heart and soul. Aged care homes were improving but still not well thought-out, so I saw an opportunity to combine my nursing background, hotel experience and interior design training to do a better job.
Question: How does Meli Studio Australia ensure they raise the bar for aged care expectations?
Julie Ockerby: We don't design just for the sake of design, but rather with thought and heart. We see our clients as partners and ourselves as advisors. Each project is a unique collaboration, starting with their vision and brief, which we often challenge and expand on to arrive at the best possible outcome.
Question: What is your goal when designing and decorating an aged care bedroom?
Julie Ockerby: Most of the time a bedroom will house just one resident, so it may not be that big, creating an extra imperative for design to maximise the use of space, just like a designer hotel room, but feeling more like a home away from home. Savvy operators are catching onto the multiple benefits of bigger bedrooms – think of it as an upgrade from a standard room to a suite – so you may have a living area as a sanctuary away from other residents, a balcony for fresh air, and even a wet bar for entertaining guests.
Question: How do you use colour psychology in your designs?
Julie Ockerby: Our projects often feature various levels of care – the higher the care the more behaviours come into play – for example orange is a creative colour but too harsh for dementia patients, for whom we tend to use calming colours like soft greens. We also use colour zones as a tool to help the aged in finding their way around the different areas of their homes. And a caveat is how different colours have different cultural connotations. For example, I use purple here in projects like Allity Greenwood. Northern Sydney for its calming and regal qualities, but in Asia it can carry funereal connotations. Lastly, we aim to use colours that harmonise with their settings, like the coastal palette at Uniting Care Gerringong, NSW South Coast, but richer palettes in colder areas.
Question: How does colour affect our feelings and behaviours?
Julie Ockerby: To a huge extent! Healthcare has been very beige but that's very sterile colour and one of my pet hates – who wants to live in a home that looks like a hospital?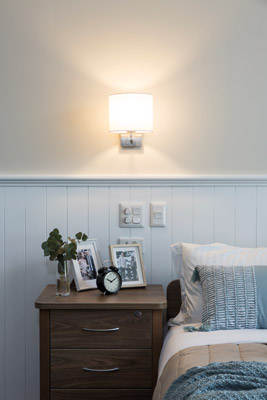 Question: Which colours are your favourite for aged care bedrooms and why?
Julie Ockerby: Stylish but warm, neutral palettes to allow residents to bring in their own touches, but I always like to add a hit of colour that 'pops' to keep it interesting. For example, a sapphire blue or emerald green bedspread.
Question: What's a typical day like, for you?
Julie Ockerby: I wish I could answer that! As a single mum with two teens and no home help, running one business and about to start another, I don't have single a typical day or week, especially as I travel for work interstate at least once a fortnight and overseas around once a month.
Question: What's next for Meli Studio Australia?
Julie Ockerby: Definitely Asian markets, starting with Vietnam, where I have a couple of projects in discussion. Then my dream is to look at the USA, where they do many things well but not aged care. In fact, I think culturally they could learn a lot from the APAC region about seniors living and care. Also, in June 2019, I'm launching a new venture with The Bespoke Collection Australia collection of fabrics designed specifically for aged care – a Signature Plains range plus four key ranges denoting various inspirational landscapes and styles. Names of colours have been synonymously chosen to reflect various influences in my design journey. They are a culmination of my cultural heritage and love of travel, food and wine. You can see the full range at www.thebespokecollectionaustralia.com.au 
Interview by Brooke Hunter
https://www.female.com.au/julie-ockerby-aged-care-projects-interview.htm